18K Yellow Color Gold Mother of Pearl Diamond Earrings
The gold hoop earrings from the Ripples series feature inlaid white Mother of Pearl and diamonds. Their minimalist design offsets the opulence of the luxurious materials, creating a luxurious yet simple temperament.
Our team welcomes you with the greatest happiness in our Shop by appointment:
1-3, G/F, No. 579 Nathan Road, Mong Kok, Kowloon, Hong Kong
Make an appointment today or contact us by WhatsApp, from Monday to Saturday from 10:30 am to 6 pm
1) SHOPPING
Attilio Fine Jewelry online inventory of high quality products allow our customers to choose their desired fine jewelry freely. Along with our designers work hand in hand to provide newly designed, high quality and unique jewelry that cannot be easily found. Moreover, by operating as an online platform.
Step 1 : Search for a Jewelry
Search for a Jewelry from Attilio Fine Jewlery's inventory by using our product search functions under the main tab Product. You can search, compare and select the perfect jewelry, you can also see the details descriptions of each jewelry and easy to understand.
Step 2 : Choose a Design
Choose the perfect jewelry such as rings, earrings, bracelets or pendants into your shopping cart.
Step 3 : Payment and Delivery
After confirm the order, you will receive an order confirmation email that lists your order details. After confirmation of payment, we will send out your choice of jewelry through the safe and reliable shipping services.
In Stock
Attilio Fine Jewelry design team in collaboration with leading jewelry manufacturer and experienced goldsmith to produce unique jewelry pieces that are now available on our on-line shop. Upon receiving your order , you will receive an order confirmation email that lists your order details. After receiving your payment, we will send directly to you through the safe and reliable shipping services. If you are still hesitant difficult decision, you can also make appointment with our Customer Service Center, our customer service team will be happy to serve you.
Made to Order
Since the selected jewelry is out of stock and some jewelry are made to order, you can enjoy the fixed online price for your customized purchase. Upon receiving your order , you will receive an order confirmation email that lists your order details. The production lead time will be 3-5 weeks after receiving your payment and we will send directly to you through the safe and reliable shipping services.
2) AFTER SALES SERVICE AND CARE
"Attilio Fine Jewelry" has a dedicated customer service center, to provide after-sales care of all customer service needs. Our service center is located at 3/F., Attilio Building, No.579 Nathan Road, Kowloon, Hong Kong. Attilio Fine Jewelry distinguished service to provide the following:
Customer Service
We provide consultation service, you may contact us by phone, email, facebook and other social media platforms.
Custom Design Service
To improve our services, you can contact our designers to provide you with different styles of jewelry design and drawings of your favorite jewelry.
Free Ring Size Adjustment
We will also provide customers with a free service to change the ring size. Specify styles and materials, due to the technical issues and can not be modified or resized. But any related shipping, the costs will be charged to your account. For inquiries, please contact our customer service department.
Free Delivery Service
We provide free delivery service to Hong Kong, Macau and China through the safe and reliable shipping services Company
Ring maintenance and repair
Attilio Fine Jewelry provides free repair services within one year from the date of purchase with a valid receipt. For more information, please consult with our sales representative. However, our repair service do not cover damages caused by the follows:
(1) Human negligence
(2) Improper ways of wearing the jewelry
(3) Damage due to daily use
(4) Damage due to accident.
We reserve the right not to provide repair services for the following situations:
(1) The stone missing is more than 0.06carats;
(2) The stone cracks, scratches;
(3) The jewelry has undergone repair elsewhere;
(4) Being stolen or lost jewelry;
(5) Changes made to jewelry disregarding professional advice;
(6) Other damages caused by non-manufacturing defects.
International customers
We are happy to provide all after-sale services to our international customers, if any related shipping costs will be charged to your account accordingly. For inquiries, please contact our Customer Service Department.
3) QUALITY CONTROL
Attilio Fine Jewelry is not only committed to providing the highest quality jewelry, but also ensure that you can enjoy percentile satisfied customer service. We are committed to the pursuit of quality products, our quality control team have implemented strict quality control to all of our diamond / gemstone suppliers and manufacturers to make sure every piece of our jewelry has pass our quality check standards.
Each piece of jewelry we delivered to you must pass the final quality testing to ensure that your jewelry are coincides with our stringent monitoring standards. After quality control procedures, it will dispatching for packaging.
4) PACKING
Attilio Fine Jewelry professional packaging makes our jewelry perfect as gifts. Our packaging includes a exquisite jewelry box, certificate folder (for storing jewelry certificate of authenticity), brochures etc.
5) PRODUCTION LEAD TIME
After you submit your order and complete the payment procedures at Attilio Fine Jewelry, we will give you a call and email to confirm your order. After confirmation, we will process your order immediately.
If the piece is a ready made item, we will arrange for delivery immediately to ensure timely dispatch. Usually we require an average eight to twelve business days to be delivered. If you want to receive the jewelry less than eight days, please call our Customer Service Department at (852) 31071622 to confirm whether such speedy delivery is possible at the time of order.
Since diamonds/gemstones are natural resources, and there is no one single diamond/gemstone is the same. The available of diamond/gemstone is therefore subject to constant changes and we cannot guarantee availability until the order is confirmed. We can also provide our professional advice to meet your needs or you can select another similar one from our stock.
Note: As all pieces are hand-made, please allow sufficient time for production.
6) SERVICE EFFICIENCY
Attilio Fine Jewelry care about our service efficiency. After receive your order, we will handle it as soon as possible to ensure prompt delivery. For whatever reasons, if you need to cancel your order, please call and email us within six hours after the placement of your order. We will try our best to amend the order as possible. For order that have already commenced on production or have already been dispatched, we regret that those order can't adjust to change or cancel.
Attilio Fine Jewelry wishes you found the ideal perfect jewelry from our website. If any of our jewelry piece in our inventory does not meet your requirements, please contact us with your specific requirements and we will provide our special selection for your preview. Please contact us at (852) 31071622 or email us to info@attiliofinejewelry.com for more details.
Delivery Methods
〈 DELIVERY POLICIES 〉
Payment Methods
Thank you for ordering through Attilio Fine Jewelry. After confirming your order, you may pay through the following payment methods:
Online Payment
We accept Paypal, Visa, Master and Union Pay. Paypal is a recognized payment platform enabling safe, convenient real time transactions.
Paying through our Customer Services Center
If you do not wish to pay online, you may visit our customer service center during office hours to pay through VISA, Master , Union Pay or in cash.
Bank Wiring
You may pay through bank wiring or TT. It will take up to 3 working days to confirm bank payment. Production/delivery process will start after bank payment is confirm. Please make sure all bank charges has taken into consideration in your payment. Please send your bank payment copy to info@attiliofinejewelry.com within 3 working days after order confirmation. Failure to receipt payment copy within 3 working days, the system will automatically cancel your order.
Please pay to : Hang Seng Bank Limited
Swift Code : HASEHKHH
Account Number : 024788283885883
Account Name : Wondrous Group Limited
We do not accept cash cheque or credit cards not under Visa or Master through our online platform. If you wish to pay by using these methods, please visit our customer services center.
DELIVERY METHODS
We understand the importance of each piece, so each delivery is handled with extreme care. We appoint a reliable courier company to deliver every single one of our products. You can also choose to pick up the piece from our office located at 3/F., Attilio Building, 579 Nathan Road, Kowloon, Hong Kong.
Attilio Fine Jewelry provides free delivery to all recipients in Hong Kong (except offshore island), Macau and Mainland China. If the recipient is not located in the above areas, we will arrange delivery with the safe and reliable shipping services.
PICK UP
If you choose to pick up the ordered item(s) from our customer service center located at 3/F ,Attilio Building, 579 Nathan Road, Kowloon, Hong Kong, please indicate on the online order form while you check out. Upon payment received, we will contact you to arrange for a pick up time. Please remember to bring a copy of the order print out when pick up your product.
DELIVERY INSURANCE
Attilio Fine Jewelry will purchase insurance for the item(s) that will be delivered via professional courier services company at our expenses.
INTERNATIONAL DELIVERY
We provide free delivery of all items to practically everywhere in the world for orders. For international delivery, please allow sufficient number of days for your country's respective customs and excise department to go through custom clearance procedures. To receive the package items from international couriers, recipient must be present at the recipient address to sign for receipt of the mailed package for safe delivery. Attilio Fine Jewelry will not be held responsible for any designs or materials that are disallowed for entry into your country pursuant to local laws. If you are in doubt, please check with your local relevant government authority before placing your order.
IMPORT TAX
The destined country of receipt may require you to bare certain customs and excise tax upon receipt of the package, including import tax and other related charges. Such duties are to be paid by the recipient of the ordered item(s). When your ordered package arrive at your country's custom department, the international courier which we have appointed for the delivery will contact and inform you of its arrival and status. If there is any related tax involved, the international courier will also notify you or pay the sums in advance on your behalf. Such payment will be due by you in any event. Please note that Attilio Fine Jewelry cannot waive, control for any taxation charges. For more information, please contact your local custom department.
DELIVERY DETAILS
– Shipping from Hong Kong to local Hong Kong address
Pick up at our Hong Kong Attilio Store OR
HK Local Registered Post for free
(Estimated Shipping/Preparation Time for above methods: 7-14 Working Days)
– Shipping from China to local China address
Pick up at our China Attilio Store OR
China Local courier service for free (by Attilio designated service providers)
(Estimated Shipping/Preparation Time for above methods: 10-14 Working Days)
SHIPPING FROM HONG KONG TO OVERSEAS
Registered Air Mail: Free postage for any purchase amount.
(Estimated Shipping/Preparation Time for above methods: 14-21 Working Days)
FedEx International: HKD500 charges for any order amount below HKD6000.
Free postage for any order amount reach HKD6000 and up.
(Estimated Shipping/Preparation Time for above methods: 7-14 Working Days)
We will send the tracking number to our customer by email after the order is shipped out.
If the products are returned because of undeliverable address and cause order cancellations, customer will be responsible for return shipping charges and administration fee of 10% of the total price. Any balance will be refunded back to the customer's credit card.
From the same category
Discover the full collection to complete your look.
You might also like
A selection of beautiful pieces of jewelry based on your previous research
About Attilio
Designed for inspiring women who bring passion to everything they do.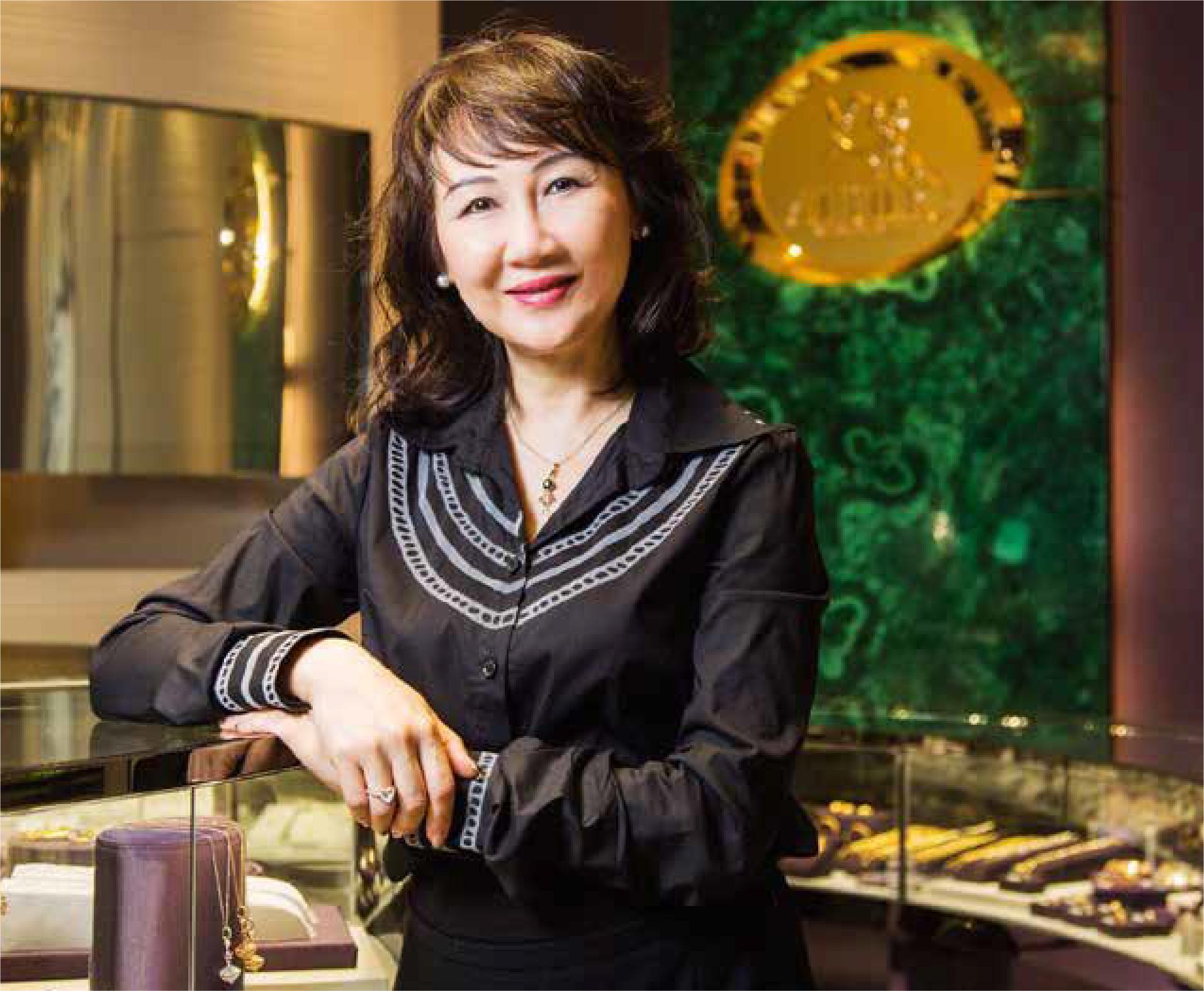 A story of love and legacy.
It was love and the desire to create a legacy that turned principal designer Millie Ho into the exceptional jeweler she is today.
In 2012, Millie Ho founded Attilio, which means 'father- like' in Italian, to honor her father Pak Tao Ho's passion and contributions to the jewelry design industry and breathe new life into the world of fine jewelry.
More about us
Philosophy
Based on her life background Millie aims to inspire and empower the youth, the creative thinkers, the life lovers.
"I want to inspire the next generation of designers, and people in general. Transmitting them that it's never too late to make a change and to keep doing what you love."
- Millie Ho
Long-standing passion for the world of jewelry
Brought up with time-honored Chinese family traditions, Millie's love of jewelry and art, entrepreneurial spirit, and appreciation for the finest gemstones can all be traced back to her artistic father's care.
Millie moved gracefully between two different worlds and spent many years in Canada before returning to Hong Kong to fully understand her Chinese cultural legacy. Her background led to her philosophy of infusing the best of both worlds into exquisite designs that highlight the beauty and elegance of different materials and cultures.
After completing her schooling, Millie studied science at university and went on to dedicate herself to medicine by working in a hospital for a decade. After a noble career, she pivoted to a different world entirely: floral design. Millie's well-nurtured artistic sense led to an extraordinarily successful business and numerous awards for her unique creations and ability to see things differently. After achieving many accolades for her floral designs, she pivoted once again and returned to her and her father's first love: the jewelry business.
The Legacy Continues
As it was passed down to her, Millie is now driven by the desire to convey her love of jewelry design to future generations. Since 2018, Attilio has supported The Jewelry Design Competition for Hong Kong secondary school students, jointly organized by the Gem & Jewelry Alumni Association and the Education Bureau. Designed to give students an insight into the real world of jewelry design, Millie was guest speaker, judge and sponsor and helped to bring the winning student's beautiful design to life.
Millie's deeply felt wish is that sharing her story of the importance of doing what you love—and that it's never too late to make a change—inspires the next generation of designers. She hopes they will feel empowered to produce creations of beauty, imbued with vitality, that will add grace and vibrancy to the most impressive of jewelry collections, and in turn, create their own legacy.